Essex firefighters to strike during Olympic biking event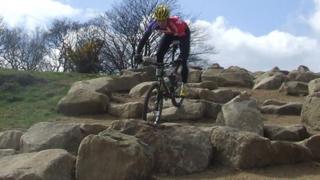 A fresh wave of strikes announced by Essex firefighters include a walkout during the London 2012 mountain biking event being staged in the county.
The announcement was made before members of the Fire Brigades Union (FBU) ended their third walkout at 09:00 BST.
New strike dates planned by the FBU include dates during the mountain biking at Hadleigh Farm.
Essex Fire Service said contingency plans would be in place.
Impact 'measured'
The new strike dates revealed by the FBU include 11 August, which is the first day of the mountain biking, and 12 August, which is the day of the closing ceremony and day two of the biking.
The FBU said on 11 August it would be staging a three-hour strike and it would operate a 999-calls-only day of action on 12 August.
FBU general secretary Matt Wrack said the strike dates announced were "measured" in terms of their impact and were intended to highlight the union's campaign.
The union claimed Essex will have lost one in five front-line firefighters since 2008 if planned cuts go ahead.
The fire service said it had made a number of concessions, including promising there would be no redundancies.
Chief Fire Officer David Johnson said he was "disappointed" at the timing of the strikes but said the service would not be affected.
During the most recent 24-hour strike back-up crews dealt with more than 25 incidents.