Jeanette Goodwin murder trial: Husband 'saw stabbing'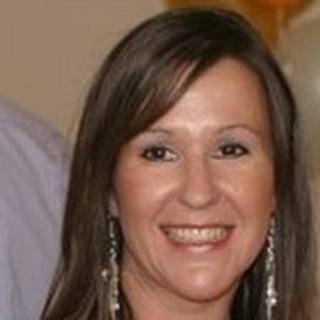 A gas engineer has told how his wife's former lover walked into their living room and stabbed her in front of him.
Mark Goodwin said he saw his wife Jeanette stabbed at their home in Southend, on 24 July last year.
Martin Bunch, 44, of Southchurch Road, Southend, is on trial for her murder at Chelmsford Crown Court.
The pair had had an affair for about eight years which was ended by Mrs Goodwin at about Christmas time in 2010, the court was told.
The court was told Mr Bunch repeatedly tried to contact Mrs Goodwin after the relationship ended.
Giving evidence, Mr Goodwin told how he was rebuilding his relationship with his wife of more than 20 years before her death.
"We had gone a long way to sorting it out," said Mr Goodwin. "She had said at her father's funeral (two months before Mrs Goodwin's own death) that we should give it a try."
'I've been stabbed'
On the day of Mrs Goodwin's death, the couple, who had three children, twice saw Mr Bunch on a mound of earth beyond their rear garden.
Mr Goodwin, of Quebec Avenue, said after both sightings his wife pressed a panic alarm and said she did not believe Mr Bunch would come back because he was under curfew.
They were both in the living room when Mr Bunch appeared in the doorway, said Mr Goodwin.
"He walked straight up to Jeanette and I thought he had punched her in the stomach," said Mr Goodwin.
"I made a movement towards them," he said. "Jeanette kind of reeled back and there was blood everywhere. She was shouting, 'I've been stabbed or he's stabbed me'."
Mr Goodwin told how he reached for a lamp and swung it at Mr Bunch until it fell apart in his hands.
He then lashed out at Mr Bunch with a metal scooter left on the settee, he said.
He told the jury he heard Mr Bunch say, 'I told her I would kill her'.
"He was not acting in a frenzy," said Mr Goodwin, "he was just calm."
Mrs Goodwin, 47, moved behind him and left the room, he said. He went around the back of the house where he found her slumped on the patio. She died later in hospital.
Mr Goodwin told the court he knew little about Mr Bunch's efforts to contact his wife after she ended their affair.
The court was also told how Mrs Goodwin had been studying accountancy and had sat her exams before her death. She never found out she had passed them, he said.
The trial continues.