Olive Williamson, 97, 'saves neighbours' in fire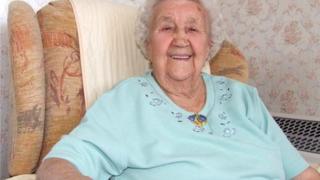 A 97-year-old woman "saved" residents at a sheltered housing complex in Essex by raising the alarm during a fire.
"Quick thinking" Olive Williamson detected the fire, which had failed to set off a smoke alarm, at Langland Close, Corringham, early on Monday.
The fire service said Mrs Williamson, who dialled 999, "saved the day".
Resident Gerald McCarthy, 61, said he "possibly wouldn't be speaking now" were it not for his "fantastic" neighbour.
The fire had started outside the flats at about 02:50 BST, waking Mrs Williamson up.
'Very frightened'
"I heard this banging noise and as it kept on I thought perhaps somebody, a burglar, was trying to get into the hall," she said.
"So I got up and I rang the police. But after that I looked out of the window and I saw sparks and the flames."
She re-dialled 999 and was worried about how to contact her neighbours, some of whom are disabled.
Within minutes, firefighters arrived and evacuated all 11 flats.
"I was very frightened," said Mrs Williamson, who is a widow and used to live in Lawford, near Colchester.
"I was frightened that I could not get out of the door because the fire was out there. I thought I can't climb out of the window."
Station officer Geoff Wheal said: "Olive's quick-thinking saved the day.
"It could have been much worse. Thanks to her vigilance she has saved her neighbours."
Improved security
Resident Mr McCarthy added: "She's absolutely fantastic.
"We all believe that if she had not done what she did, things would have been very different. I possibly wouldn't be speaking now.
"We are all very, very grateful and just over the moon with what she has done."
Residents said they fear the fire may have been started deliberately and that they have already called on Thurrock Council, which runs the complex, to improve security and install a perimeter fence.
Councillor Val Morris Cook said security and comfort of residents were a "top priority" and a fence would be erected soon.