Former Dale Farm caravans parked on Oak Lane given warning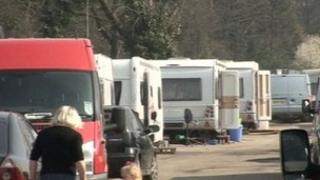 Caravans illegally parked near the former Dale Farm travellers' site in Essex have been issued with planning enforcement notices.
Basildon Council said notices had been served to caravans parked on Oak Lane in Crays Hill asking them to leave.
The authority said some of the 19 caravans were from Dale Farm, which was cleared by bailiffs last year, but some were new to the area.
The Gypsy Council said the travellers would appeal against the decision.
Following the eviction of Dale Farm last October, some travellers moved to the neighbouring Oak Lane legal site, with some settling on the approach road.
The council said Oak Lane's legal capacity had been exceeded, but action being taken at this stage only affected caravans parked on the access road.
'Suitable sites'
Council leader Tony Ball said: "If no appeal is lodged the notice comes into effect and must be complied with within one month.
"If there is no compliance, then the travellers should be in no doubt that we will take the appropriate action."
Joseph Jones, chairman of the Gypsy Council, said: "Basildon Council should spend more time and money finding suitable sites for travellers to live in the area, and less time and money on issuing enforcement notices."
Work to shut down illegal settlements on Dale Farm, the UK's largest illegal travellers' site, resulted in violent clashes in October.
About 80 families were evicted from the six-acre site after a decade-long planning row over the settlement, some of which was on green belt land.
Basildon Council spent £4.8m on the clearance and said £1.6m was used to contest a series of injunctions brought by the travellers.