Essex estuary oyster population 'close to collapse'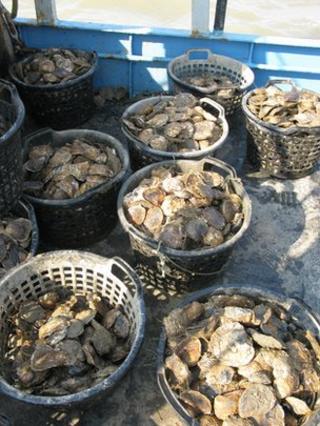 Native oyster beds in river estuaries in Essex have been closed to commercial fishing after a survey revealed the population was close to collapse.
Fishing for rock oysters will not be affected because of benefits it provides for wading birds.
The ban, agreed between Essex Wildlife Trust and Blackwater Oystermen's Association, is backed by a by-law.
The trust spotted a threatened collapse in a survey of oyster beds using sonar, GIS mapping and depth readings.
Heavy sedimentation made dive surveys virtually impossible.
The closure prohibits fishing or disturbance of native oysters in the Blackwater, Crouch, Colne and Roach estuaries and out to sea, from Clacton to Foulness Point.
'Last stronghold'
Blackwater Oystermen's Association, which has operated in the estuaries for hundreds of years, voluntarily ceased harvesting the native species but will continue to fish for non-native rock oysters.
"As well as a commercial enterprise, this farming is of benefit to wading birds in the estuaries," a spokesman said.
"Rock oysters living in the mudflats form hard reefs, which can prevent birds, such as Curlew and Redshank, from feeding so harvesting them benefits the birds."
Sarah Allison, from Essex Wildlife Trust, said: "The native oyster is one of the UK's rarest marine animals; we are very lucky to have it in Essex but, unfortunately, our surveys have found it to be in serious decline in some areas."
Richard Haward, a seventh generation Blackwater oysterman based on Mersea Island, said: "The River Blackwater is one of the last remaining strongholds of the native oyster and has been cultivated in these waters since Roman times.
"Blackwater oystermen are committed to the conservation of this species and are pleased to be working in partnership with the Essex Wildlife Trust to ensure its future."