'Desk shielded' Loughton Methodist Church worker in crash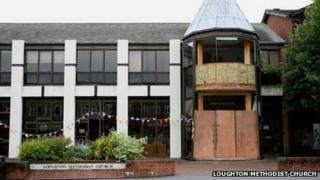 A curved office desk could have saved a woman from further injury after a car crashed into a church in Essex, it has been claimed.
Loughton Methodist Church administrator Juliette Harvey was trapped in her office after the crash on Monday.
She suffered serious leg and pelvis injuries, but Christine Baker, from the church, said she was "convinced" the desk helped shield her from the impact.
Essex Police said Mrs Harvey was in a stable condition in hospital.
A BMW ploughed into the glass front of the building on High Road on Monday afternoon.
Mrs Baker, church spokeswoman, said Ms Harvey was found in her office trapped in the curve created by her new desk and the wall.
'Distressing time'
She said: "The desks were changed last week from straight ones to curved ones. We are convinced that helped save her from further injuries.
"With the force of the car coming through, it could have been much worse."
Police said the driver of the car was "badly shaken" and an investigation has begun into the cause of the crash.
Reverend Tony Morling said: "Our thoughts and prayers are with Juliette and her family at this distressing time.
"She is in good hands at the Royal London [Hospital]. We are grateful that no-one else was injured.
"Fortunately the structure of the building is not compromised. The affected part of the building has been boarded up and clearing up is going on in earnest by church volunteers.
"The office has been relocated within the church."