Killed Richard Wight to expose paedophile, inquest told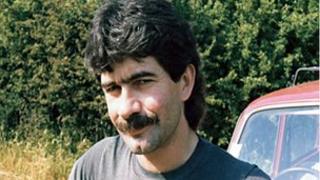 An Essex lorry driver may have been stabbed to death by his neighbour because he was about to expose him as a paedophile, an inquest has heard.
The Chelmsford inquest heard Richard Wight, 55, was killed at his Braintree home by neighbour Alan Taylor, 59.
After the incident in January, Mr Taylor returned home and died of a heart attack in front of his computer.
Coroner Caroline Beasley-Murray said Mr Wight was unlawfully killed and Mr Taylor died of natural causes.
The two men are thought to have died on 5 January though their bodies were not found until 15 January.
'Child pornography'
Giving evidence, Det Ch Insp Mark Hall told how the two men, who lived alone, had a history of neighbourly disputes, including disagreements over parking, blocked drains and garden access.
When the coroner gave Mr Wight's brother Ian the opportunity to question the detective, it emerged Mr Taylor had been looking at images of child abuse on his computer.
The inquest was told how in 2007 Mr Wight had somehow gained access to Mr Taylor's wi-fi internet connection and realised his neighbour, a former electrical engineer who once served in the army, was looking at child pornography.
The inquest was told police found a piece of A4 paper bearing the words "Gary Glitter, what's that about fella?" on it.
Police believe the note was written by Mr Wight and possibly left on the property of Mr Taylor. When police retrieved Mr Taylor's computer, they found he had tried to delete 39 files, 37 of which were images of child abuse, the inquest heard.
Mr Wight's brother asked Det Ch Insp Hall if a "motive for the killing" was Mr Taylor's "trying to prevent himself from being exposed as a paedophile".
Det Ch Insp Hall said it was "a possible motive" for what he described a "ferocious attack".
A post-mortem examination found Mr Wight died of stab wounds to the neck and chest delivered with a "severe degree of force", the inquest was told. Mr Wight also had a blunt force trauma injury to his face, possibly caused by a bottle, the hearing heard.
Mr Taylor, who weighed more than 20 stone (127kg) and had undergone a quadruple heart bypass, died of a heart attack.
The family of Mr Taylor, in a statement, expressed their condolences to Mr Wight's family.
The statement said: "News of Alan's death was a massive shock. As we learned further details from the police and HM Coroner we have struggled to come to terms with what we were being told.
"It is with great sadness that we have to face the fact that the much loved family member with whom we shared many happy memories seems a different person from the man who died in January."
After the hearing Margaret Derrett, Mr Wight's sister, said her brother may be alive today if he had shared his knowledge with police.