Max Whitlock's mother tells of pride at double bronze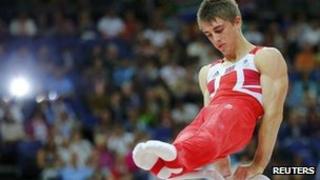 The mother of gymnast Max Whitlock has voiced her pride at her son's double Olympic bronze success.
The 19-year-old scored 15.600 on the pommel horse which landed him a bronze in the event, with team mate Louis Smith winning a silver medal.
Whitlock, who lives in Hemel Hemstead and trains in Basildon, had already won a bronze medal in the men's team event.
Whitlock's mother Madeleine said her son was "loving every single minute" of London 2012.
Mrs Whitlock, who was there to watch her son's bronze medal routine on the pommel horse, said: "It was amazing, it was fantastic, I'm so proud.
'Really deserves this'
"I found it a really emotional day and I felt sick until and during the competition until it was over," she said.
"I still can't believe it. Every parent hopes their children will go a long way, and Max has proved himself and worked really hard. He really deserves this."
Asked whether she was now looking forward to the Rio de Janeiro Games in 2016, Mrs Whitlock said: "I can see a holiday coming on."
Whitlock travels an hour each way to Basildon Sporting Village where he trains from 12:00 BST until about 19:00 during Monday to Friday. He also trains during Saturday mornings and rests on Sundays.
Speaking about his victory, Max Whitlock said: "I just wanted to go out there and do a clean routine. I did not think I would get a medal, so to get two is amazing."