Laura Trott 'wrong' gold postbox to keep its new paint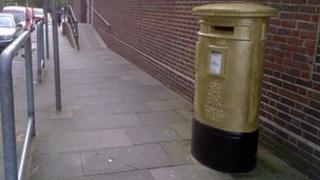 A postbox 'wrongly' painted gold in honour of Olympic champion Laura Trott will keep its new colour.
Royal Mail painted the postbox in Harlow after Trott won a gold medal in the Olympic team pursuit contest with Dani King and Joanna Rowsell.
But Trott, who was born in the town, then tweeted her hometown was in fact Cheshunt, in Hertfordshire.
Harlow Council asked the Royal Mail to leave the postbox gold.
'Fever hit'
The Labour council leader Mark Wilkinson said: "Harlow is very proud of its strong sporting achievements by people who have lived, grown up, trained or were born in the town.
"Thousands witnessed the Olympic Flame coming to Harlow and the golden postbox would also be a great way for Harlow to remember when Olympic fever hit the country."
Royal Mail said the mistake had been made because Trott's home town was listed as Harlow on the Team GB website.
The business has now confirmed the Harlow postbox, in Stone Cross, would remain gold.
Beth Longcroft of Royal Mail said: "We're thrilled that athletes and the public have taken both our Gold Medal stamps and the gold post boxes to their hearts.
"We're sure that people in Harlow will share our pride in honouring Laura's birthplace with a gold postbox.
"We were happy to paint another box for Laura in Cheshunt, where she now lives."
Royal Mail has pledged to transform one postbox from red to gold in the hometown of every British Olympic champion during the Games.
The champion cyclists also feature on a new stamp.