Police investigate wood chip fire in Rochford, Essex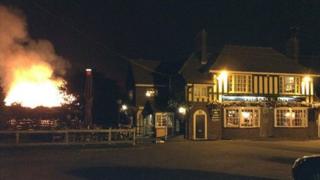 The cause of a large wood chip fire in Essex is being investigated by police.
The blaze, which began at Hall Road, Rochford, just before 20:00 BST on Friday, was tackled by 11 fire crews at its peak during the night.
On Saturday, one crew continued to maintain control of the blaze, which has caused no further damage or injuries.
Two diggers were on top of the wood chip pile when the fire began. It created flames over 15m (49ft) high.