Kayaker Keith Kirkum died after being hit by lightning, partner says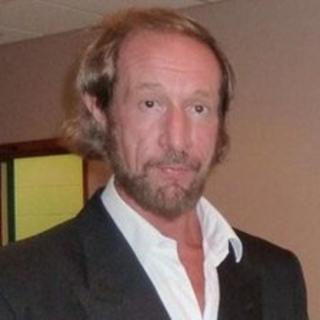 A kayaker died from a heart attack off the Essex coast after being struck by lightning, his partner said.
The body of Keith Kirkum, 59, of Burnham-on-Crouch, Essex, was found on a beach in Bradwell on 7 August.
It was initially thought Mr Kirkum drowned but post-mortem tests suggested he had been hit by lightning. An inquest has been opened and adjourned.
His partner, Charlotte Kelly, 61, said: "He loved nature and the elements. It's an unfortunate irony."
'Seismic shift'
Ms Kelly said the cause of death had been a huge surprise.
"It was a seismic shift for us because we all thought he had got into difficulties and drowned," she said.
"The post mortem revealed Keith died as a result of a cardiac arrest brought about by electrocution.
"The electrocution in question was from being struck by lightning.
"But all the early reports suggested that it was drowning. We all thought that."
Mr Kirkum, who took up kayaking about six months ago, parked his car close to a beach in Bradwell.
The alarm was raised in the early hours of 7 August after he failed to return home.
Ms Kelly, who worked with Mr Kirkum at her book sales agency, said: "He had a great respect for Mother Nature."