Student Oliver Lilburn's 'hangover' was a stroke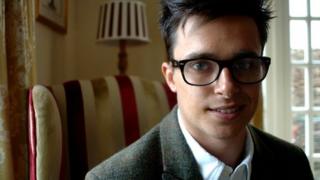 When teenager Oliver Lilburn began to feel sick after a night out with friends he first thought it was a hangover.
But when the right-hand side of his body started to shake, the 18-year-old from Dedham, near Colchester, knew it was something more serious.
He told one of his teachers at St Joseph's College in Ipswich and he was taken to the town's hospital.
Mr Lilburn had suffered a brain haemorrhage which led to a stroke.
That was in August last year. His parents Colin and Justine were told to prepare for the worst.
But he survived the stroke and in the past year, while his fellow students went off to university, Mr Lilburn has been learning afresh how to walk and talk.
'Been incredible'
Now 19, he is about to head off to Bath Spa University to study business management with a view to a career in marketing.
He had just returned from a five-week charitable trip to Uganda and received his A-level results when he had the stroke.
Mr Lilburn said: "I was out with some friends celebrating the fact we would be off to university in a few weeks."
The next day he went into his old school to speak with fellow pupils about his project in Uganda.
"It was there that I began to feel poorly," he said. "I had a fuzzy head and I thought it was just a hangover effect from the night before.
"But then," said Mr Lilburn, "the right side of my body began to shake and that's when I thought something wasn't right."
He telephoned his father who urged him to speak to a teacher and ask to be taken to hospital.
It was only when he woke from an induced coma at Addenbrooke's Hospital in Cambridge that he learned he had suffered a stroke.
"I've still not really come to terms with what has happened," he said. "I thought I was fine and still going off to university.
"I was so determined about going that I did not think anything would stop me," he said. "But the whole right side of my body was paralysed. I had to learn to walk again, use a knife and fork and I had to learn to talk again as I was mumbling.
Turned away
"There have been points when I've been very low but I've had to turn those around," said Mr Lilburn.
On one occasion he went out with friends to a Colchester nightclub but was turned away by a doorman, he said, who thought he was "drunk" and did not believe he was recovering from a stroke.
Mr Lilburn said: "I never thought anything like this would happen to me. You just don't know what is coming around the corner."
Mrs Lilburn, his mother, said she and her husband were "very proud" of the determination he had shown.
She said when she first asked what might happen after the stroke, a doctor told her it would be wise to get their other children, 18-year-old Georgina and 15-year-old Joseph, to say goodbye to her eldest child.
Describing his progress during the past year, Mrs Lilburn said: "It has been incredible."
She said despite the struggle of the past year, her son's illness had brought the family even closer together. Mr and Mrs Lilburn are now readying themselves for their eldest two children to go to university.
Mr Lilburn is currently organising a charity event for Different Strokes, a charity supporting younger survivors of strokes.
The event, which includes a charity auction and food, will be at the Steamboat Tavern in Ipswich on 16 September from 16:30 BST.