Kitesurfer badly hurt after hitting Southend sea wall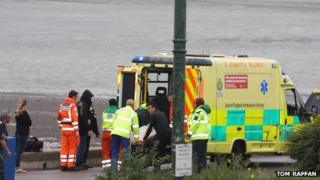 A kitesurfer suffered "life-threatening" injuries when he crashed into a sea wall in south Essex.
Thames Coastguard was called to Southend by the East of England Ambulance Service after the accident at about 14:30 BST on Wednesday.
The kitesurfer, who struck the wall at Chalkwell, was treated at the scene before being flown by air ambulance to Addenbrooke's Hospital in Cambridge.
The East Anglian Air Ambulance said his condition was "life-threatening".
Simon Mudd, chairman of the Essex Kitesurfers' Club and who runs the Essex Kite Surf School, is a friend of the injured man and had been kite-surfing nearby in Southend shortly before the accident.
He said: "He's a lovely, lovely, guy. I came off the water because it got too windy.
"He's a very competent kitesurfer and he was on the right sized equipment.
"The wind just came through really strong."
'Caught by gust'
He told how the wind had been blowing at about 20mph but then increased in speed to 30mph and then 40mph, which Mr Mudd described as "extreme".
"It is quite possible that on the launch he got caught by the gust and was thrown into the sea wall," he said.
"It was a freakish sort of accident."
He said the injured man, who is understood to have a young family, had severe injuries including several broken bones.
Tom Raffan, who lives close to the scene, witnessed the arrival of the emergency services.
He said the weather at the time of the accident was "really windy" and "erratic".
The crew of the Anglia Two helicopter, which took the injured man to hospital, landed close to the beach.
The medical team - Dr Neil Berry, Dr Tom Hurst and critical care paramedic Jemma Varela - treated the man at the scene before he was flown to Cambridge.