Assaults at Chelmsford Prison double in decade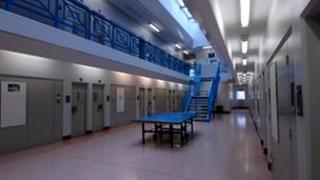 The number of assaults reported at Chelmsford Prison has more than doubled in the past decade, it has emerged.
According to figures from the Ministry of Justice, 268 assaults were reported at the category B prison in 2011 - up from 123 in 2001.
The prison can accommodate more than 700 people and houses adult inmates and a Young Offenders Institution.
The prison service said assault numbers had fallen in 2012.
In its most recent inspection, HM Inspectorate of Prisons highlighted its concerns about violence at the institution.
The report said: "The prison's approach to reducing violence had improved significantly but the number of recorded incidents of violent and antisocial behaviour, particularly among young adults, remained too high."
'Boredom and frustration'
A spokesman for HM Prison Service said incidents were taken very seriously.
He said: "A recent inspection of HMP Chelmsford found that the number of violent incidents at the prison is falling and that arrangements to manage violent incidents in the prison are 'excellent'.
"The prison is determined to build on this progress," the spokesman said. "Prisoners are also screened to identify any learning needs, including dyslexia, when they arrive at HMP Chelmsford so specific educational support can be put in place."
Former Chelmsford inmate Colin Nugent said: "A lot of it (violence) is boredom and frustration, especially with the young ones."
He called for more activities to be offered in prisons to keep people "occupied" and to improve their skills.
Incidents of self harm have also risen at Chelmsford in recent years.
In 2011 there were 214 cases of self harm reported compared with 142 the previous year and 132 five years ago.