Southend's Dr Aloke Basu is struck off after death crash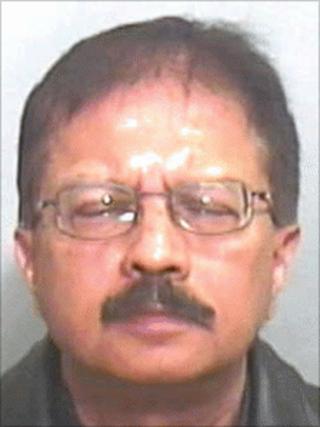 A doctor jailed for causing death by dangerous driving has been struck off the medical register.
Shirley Watkins, 74, died in Southend in 2010 after she was hit by a Porsche Carrera driven by Dr Aloke Basu.
Last year Basu was jailed for two years at Basildon Crown Court for causing death by dangerous driving after it emerged he had cataracts in both eyes at the time.
He has now been struck off the medical register following a hearing.
Basu, of Southend, had worked as a GP at Shoebury Health Centre, Shoeburyness, for more than 30 years.
The Medical Practitioners Tribunal Service this week decided his fitness to practice medicine had been "impaired" because of the conviction.
Basu was not present during proceedings, which took place in Manchester.
In correspondence through his solicitors, Basu, who is in his late 60s, told the panel he had resigned as a GP and had "no wish to return to practice of medicine".
'Irresponsible'
During the hearing, the tribunal heard how Basu had collided with Ms Watkins not because he was travelling at speed but because "he failed to see her".
The hearing was told Basu had failed to tell the DVLA about his cataracts until the day after the fatal accident.
Panel chairman Dr Harvey Marcovitch said: "The panel is satisfied on the balance of probabilities that, by the time of the accident, Dr Basu's eyesight had deteriorated to such an extent that he should have realised that it must be reported to the DVLA.
"The panel finds that Basu's conduct was irresponsible."
Dr Marcovitch said Basu's behaviour was "unacceptable in a member of the medical profession" which had "brought the profession into disrepute".
Basu has 28 days to appeal against the tribunal's decision.