Sir Bob Russell MP 'broke Commons expenses rules'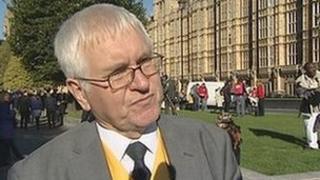 A Liberal Democrat MP from Essex has broken expenses rules over the rental of his constituency office, according to a parliamentary standards watchdog.
Sir Bob Russell, MP for Colchester, claimed more than £70,000 over seven years for an office owned by a company in which he was a major shareholder.
He will not face any punishment because he acted in good faith, although in "clear breach" of Commons rules.
Sir Bob apologised saying he had made no personal gain from the arrangement.
The Parliament's standards watchdog has ruled it cannot be proved that Sir Bob did not tell the House of Commons authorities about the rental agreement.
'Public purse'
He had a £25,000 stake in the Magdalen Hall Company which bought St Mary Magdalen Church Hall in April 2002.
The company leased the building to Colchester Liberal Democrats who then sub-let half of it to Sir Bob for his constituency office.
Commons authorities paid Sir Bob's rental to Magdalen Hall and later to his constituency party.
The Parliamentary Commissioner for Standards, John Lyon, has ruled Sir Bob was "in clear breach" of Commons rules.
Sir Bob has apologised, saying: "I have not personally made a financial gain from the arrangements.
"Rather I have made a significant personal contribution to provide an office which is fit for purpose at no additional cost to the public purse."
He added: "The fact that no further action is to be taken indicates that my breach was a technical one."