Escaped python found after Henham thatched house fire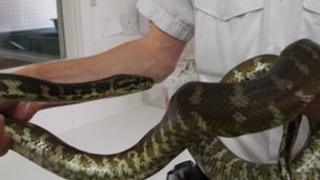 A four-foot long snake missing for weeks was found safe after falling from the roof of a burning house in Essex.
The carpet python was in the roof of the property in Pledgdon Green, Henham, near Bishop's Stortford, when a fire broke out at about 05:00 BST.
The python - called Jake - dropped from the thatched roof on to the firefighters beneath.
The RSPCA said the snake had been missing for about a month before the fire.
'Hard to find'
After the snake landed on the ground, it moved off towards nearby foliage to hide.
RSPCA inspector Steve Craddock said: "It seems that the python had escaped over a month ago and had been hiding in the thatched roof, but came out when the fire broke out.
"Snakes do often escape and it can be very hard to find them as they can hide in the smallest of spaces," he said. "Thankfully the python seemed to be quite healthy."
The RSPCA has arranged for Jake the snake to be cared for at the South Essex Wildlife Hospital until his owners have sorted out their house, which was badly damaged in the fire.
An investigation by Essex Police and the fire service is to be carried out into the cause of the blaze, which destroyed the roof and caused substantial damage to the first floor of the property.