Essex Police horse unit will be disbanded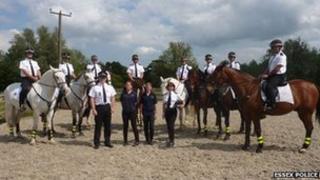 Essex Police's mounted section will be disbanded, the force has confirmed.
The constabulary is in the process of trying to save £42m by 2014 and has already shed 807 jobs, including 324 officers, since April 2011.
Hundreds of people had signed a petition calling on Essex Police Authority to abandon its plans to cut the horse unit.
But Essex Police said disbanding the mounted section would save it about £600,000 a year.
The disbanding of the unit comes just five years after it was reintroduced to the county.
'Securing a good home'
Assistant Chief Constable Sue Harrison said: "We know that the public, police officers and staff hold the mounted section in great affection and the unit has provided great service over the years.
"However the financial pressures we face need to be met head on and inevitably difficult decisions have to be made," ACC Harrison said.
"Officers based within the unit will take up new roles elsewhere in the force and staff members will be eligible for redeployment," she said. "A detailed plan for the disbanding of the unit is now being progressed."
ACC Harrison said: "Securing a good home for the horses will continue to be paramount and we will explore all avenues to achieve this including transferring them to other forces."