Essex 'spy car' plan to patrol parking outside schools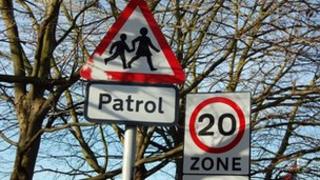 Cars with cameras mounted on their roofs are to be used in Essex to catch motorists parking illegally outside schools.
The North Essex Parking Partnership has agreed a year-long trial for a "spy car" to fine people caught parking on yellow zig zag lines.
The partnership says it has been contacted by schools and the public about the issue of illegal parking.
But one council leader has criticised the move as an invasion of privacy.
'Stasi-type spy operation'
Susan Barker, partnership chairman, said illegal parking outside schools presented a "danger".
"It is very difficult for a limited number of officers to visit schools," Mrs Barker said.
"But with a car we can get to two or three schools in the morning and the same in the afternoon."
She said there would be no cost to the taxpayer because the car would be funded by fines.
But Neil Stock, leader of Tendring District Council, described the idea as a "Stasi-type secret spy operation".
"Why not stop and speak to parents?" he asked. "Kids are not getting run over and this is tackling a problem that does not really exist."
Tony Cox, of Southend Borough Council, said camera cars had extensive livery on the outside stating what they were. He said the scheme had been successful in Southend.