Chambers murders: Police returned blood-stained ring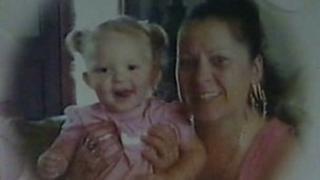 The family of a murdered Essex mother and daughter say they were shocked to find traces of blood on jewellery returned to them by police.
Christine Chambers, 38, and Shania Chambers, two, were shot dead at their home in Braintree in June 2011.
Miss Chambers' sister, Jeannette Chambers, said it was "upsetting" and "distressing" to have a blood stained ring returned to her parents.
Essex Police have apologised for the upset caused.
Personal items were given to the family after David Oakes - Shania's father and Miss Chambers' former partner - was given a whole life jail sentence for the murders.
Jeannette Chambers said her mother found blood on a solitaire ring.
"My mum and dad have been through enough," she said.
"The last thing they needed was to be handed some of my sister's jewellery, that was on her the night it happened, with my sister's blood on it.
"It's quite distressing for my mum, who has had to stand there cleaning it all because it wasn't cleaned properly."
A spokesperson for Essex Police said "every effort was made" to clean the items before they were returned to Miss Chambers' parents, Ken and Jean.
"During a family liaison visit after the return of the jewellery, Jean Chambers informed police that she had found small traces of blood on one of the items returned.
"An immediate apology was provided to Ken and Jean at the time."
Oakes, of Steeple, near Maldon, was drunk and on cocaine when he killed Miss Chambers and their daughter.
Armed with a double-barrelled shotgun, an axe and petrol, he let himself into the house in Bartram Avenue just before midnight on 5 June 2011.
After killing the pair he shot himself in a failed suicide attempt.