Harlow fire: Fifth child dies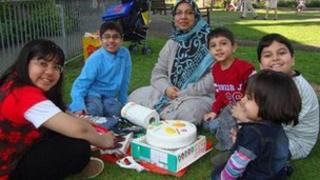 A three-year-old girl has died in hospital, three days after a house fire in Harlow which killed her mother and all four of her siblings.
Dr Sabah Usmani, her sons Muneeb, nine, and Rayyan, six, and daughter Hira, 12, died on 15 October in Harlow.
A third son, Sohaib, 11, died later in hospital. Dr Usmani's husband,
Daughter Maheen was being treated at Broomfield Hospital, but died earlier. Her father Dr Abdul Shakoor, the fire's sole survivor, is still being treated.
Dr Shakoor, who suffered from the effects of severe smoke inhalation, is recovering in the adult burns ward of Broomfield Hospital in Chelmsford.
He had been transferred there from Harlow's Princess Alexandra Hospital, where he works, on Monday night, to be close to Maheen.
Mid Essex Hospital Trust said in a statement: "Trust staff and the specialist care team from the St Andrew's Burns Centre offer their sincere condolences."
A spokesman for the Princess Alexandra Hospital said: "None of us can come close to understanding his suffering and the terrible loss of Maheen, Rayyan, Muneeb, Sohaib, Hira and his wife Sabah.
"On behalf of all our staff at Princess Alexandra Hospital, we extend our deepest sympathy to Dr Shakoor.
"All of us have been saddened by this tragedy and as a close-knit hospital community; many of us know Dr Shakoor and have been overwhelmed by what has happened."
'Ferocious blaze'
Det Supt Rob Vinson, senior investigating officer, said earlier on Thursday: "Initial indications show that the fire appears to have taken hold in the lounge area which is at the rear of the property.
"The ferocity of the blaze has made the forensic work more challenging," he said.
No evidence of an accelerant has been found, police have said.
However, the investigation into the cause of the fire continues.
"We have many lines of active inquiry," said Mr Vinson, "but we really need residents and bystanders who were in the Barn Mead area as emergency crews responded and dealt with the fire to come forward urgently."
A meeting with residents has been organised for Thursday evening by police.
Mr Vinson said: "Naturally, local residents are concerned about what happened and this investigation will not end until we have exhausted every line of inquiry."
The police mobile support unit is to remain at the scene for the foreseeable future.
Harlow Council has opened a book of condolence at the town's Civic Centre.
Council leader Mark Wilkinson said: "We know how hard this tragedy has hit the local community.
"This is a time when people want to show those affected that they are thinking of them and pay their respects to those who have lost their lives."