Harlow fire deaths: Special prayers for Shakoor family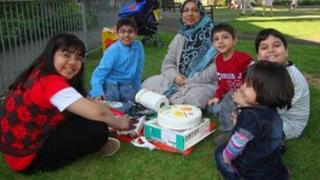 Prayers have been held for a doctor and the family he lost in a house fire in Essex.
Dr Sabah Usmani, her sons Muneeb, nine, and Rayyan, six, and daughter Hira, 12, died on 15 October in Harlow. A third son, Sohaib, 11, and daughter Maheen, three, died later in hospital.
Dr Abdul Shakoor, the sole survivor of the fire, is still being treated.
The prayers took place at the Harlow Islamic Centre.
Zia Rehman, of the centre, said: "The community is deeply affected by this tragedy but they have all come together to share their grief and sorrow and to help in any way they can.
A book of condolences is open at the centre for the public to sign.