Martin Channon died in diesel tank collapse, inquest told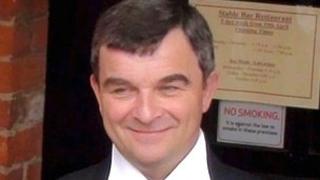 A businessman died of multiple injuries after a diesel tank weighing more than a tonne collapsed on top of him, an inquest has heard.
Martin Channon, 54, died after the accident at his firm Modular Building Systems in Bocking, Essex, on 30 May.
A jury inquest in Chelmsford decided Mr Channon, of Billericay, died as a result of an accident.
After the hearing his family said the verdict was expected and paid tribute to a man who "lived for his business".
The hearing was told how married Mr Channon, who had two stepchildren, was beneath the tank when it fell from a forklift truck driven by his employee Vincent Hills.
'Out of the way'
The pair had been trying to tip out 45 gallons (170l) of diesel from the large cylinder tank when the accident happened.
The inquest was told the prongs of the forklift truck were not in the fork 'pockets' of the tank which meant the weight was not "evenly distributed".
David Rudland, a specialist inspector from the Health and Safety Executive, said: "Movement of the tank would have caused the liquid to move, adding to the instability.
"As soon as it started to tip, the liquid would have moved to that end and there was nothing to stop it."
Mr Hills, who had worked for Mr Channon's firm for about six years, told the inquest the tank was about 10ft (3m) in the air when the accident happened.
"I felt something move on the forklift," he said. "I looked up, I saw the tank go to the right and then come back to the left. I said to Martin 'get out of the way, quick'.
"By the time I finished saying that, the tank was on top of him," said Mr Hills.
After the hearing, his mother Eileen, brother Graham and sisters Carole and Kim, said: "He lived for his business and his family. If you needed help, Martin would be there."