Lollipop patrol at Tollesbury to cost parents £55,000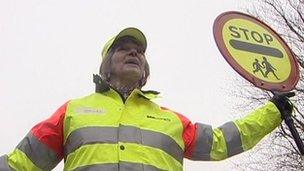 Parents who wanted to pay for a lollipop patrol at an Essex primary school have been told it would cost them £55,000.
Tollesbury School, near Maldon, does not qualify for a funded crossing patrol, Essex County Council said.
The council said it could administer a patrol if parents covered the cost.
Sarah Case, one of the parents, said: "I was quite gobsmacked by the cost and we feel Essex County Council aren't making children's safety a priority."
The primary school has about 210 pupils aged 4-11 but has never had a crossing patrol.
Ms Case, who has a five-year-old son at the school, said about half the parents had pledged to help fund a lollipop person.
In January, she was told the estimated cost was £18,000 to set it up and then £6,000 a year to run.
The parents have now been told the set-up cost is £46,842 with £8,432 a year on top of that.
"There is a lot of traffic going past with vans and lorries going to a local business park and the majority of children walk to school and I don't think it will be long before a real accident happens," said Ms Case.
"The cost is ridiculous, but it's not the end because we've got a lot of support and we're certainly not going to let this lie."
An Essex County Council spokesperson said: "We have sought to listen to residents to self-fund school crossing patrols where a site does not meet our policy.
"We sympathise with parents regarding the costs, although these represent the financial commitment for this type of activity which includes the installation of any necessary safety enhancements, recruitment and training costs."
Related Internet Links
The BBC is not responsible for the content of external sites.