Williams & Griffin submits plans for £30m redevelopment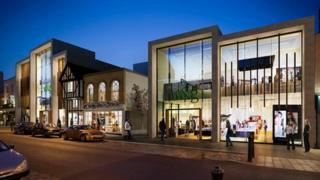 Plans for a £30m redevelopment of a Colchester department store have been submitted to the town council.
Williams & Griffin, which is based on the High Street, said the shop floor space would be increased by 50%.
A spokesperson for owner Fenwick said the redevelopment would be a "catalyst for the regeneration of the High Street as a whole".
If Colchester Borough Council approves the plans, building work could begin early next year.
The spokesperson for Fenwick said the new look building would include a large central atrium.
"The trading area will be increased by 50%, with striking new contemporary facades facing the High Street together with the full renovation of the Tudor and Victorian buildings, which will be adapted to form part of the ground floor of the redevelopment," the spokesperson said.
The plans are due to be discussed by Colchester Borough Council on 13 December, subject to findings from a public consultation.