Chelmsford conman David Bowerman jailed for £7m fraud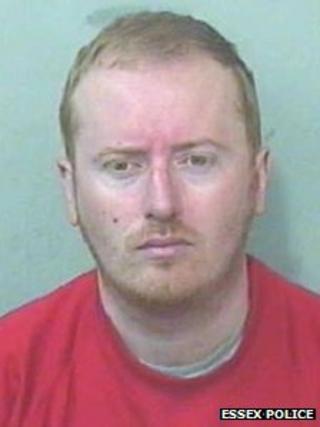 A conman who stole £7m from hundreds of investors, including his own mother, has been jailed for eight years.
David Bowerman, 35, of Essex, "told bare-faced lies" to fund an extravagant lifestyle of gambling and fast cars, Chelmsford Crown Court heard.
As well as his mother, a Premier League footballer, a terminal cancer sufferer and his next-door neighbour were among 200 victims.
Bowerman, of Chelmsford, admitted 32 counts of fraud and one theft.
Judge Charles Gratwicke told Bowerman he acted in a "wicked, disgraceful and cynical manner, without any regard for the effects of your dishonesty".
He accepted the defendant, who drove a £38,000 Audi and an £81,000 Aston Martin, had a "pathological gambling addiction".
Manchester City and former England goalkeeper Richard Wright and the ex chairman of non-league Chelmsford City Football Club were among those taken in.
Bowerman, of Bramwoods Road, took three holidays in the Caribbean and at the height of his offending was pictured on Facebook lighting a cigar with a £50 note.
He eventually handed himself into police after building up huge debts.
Prosecutor Antony Swift said: "This case involves a number of frauds over a number of years in which he systematically and cynically defrauded, for the most part, family, friends and acquaintances out of large sums of money.
"He went back to the same people time and again to get as much as he could."
Bowerman, previously an investment adviser for Callaway and Sykes in Chelmsford, used the firm's name, without its knowledge, to convince victims they were investing in legitimate schemes, the court heard.
He offered investors false returns by using funds from new investors to give the impression of a profit-making business and conducted a separate loan fraud.
'Bogus statements'
Mr Swift said Bowerman began targeting "people with large amounts of cash at their disposal" in an attempt to "keep his various balls in the air".
Wright, 35, who has also played for Ipswich, Everton and Arsenal, handed over £400,000, while Peter Stroud, the former chairman of Chelmsford City Football Club, invested more than £1m.
Bowerman also stole £36,500 from a savings account belonging to his elderly mother, Cynthia.
"He had access to her account and was supposed to be looking after her," Mr Swift said.
He added: "The reason he was able to get away with it for so long was his personal relationship with many people and the trust that they placed in him.
"He told bare-faced lies and circulated completely bogus statements to show investors how their investments were growing."
Christopher Kerr, mitigating, said Bowerman had expressed "deep shame and remorse" but was "thoroughly deluded" when he believed gambling would turn everything round.
"He is aware of the loss - financial and emotional - that he has caused," he added.
Speaking after the case, Det Con Peter Sutton, from the Kent and Essex Fraud Squad, said: "Some of his victims suffered more than once as he continued to abuse their trust whilst he fraudulently raised funds to feed his insatiable appetite for gambling and to finance a lavish lifestyle way beyond his means.
"The cynical way Bowerman exploited the trust of his victims is the worst example the case officer has seen in more than 28 years of police service."
He added some of the victims may never recover from the hardship Bowerman caused.