Harlow fire deaths: Shakoor family burgled before blaze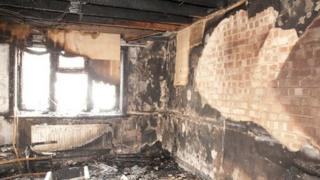 Police say a house in which a mother and her five children died in a fire had been burgled on the same night.
Dr Sabah Usmani, her sons Muneeb, nine, and Rayyan, six, and daughter Hira, 12, died on 15 October in Harlow. A third son, Sohaib, 11, and daughter Maheen, three, died later in hospital.
Dr Usmani's husband, Dr Abdul Shakoor, was the only survivor.
He had gone outside in the hope of catching his wife and children from a first-floor window.
Essex Police said although it was unable to say if the fire was started by the burglar, the break-in and two further unsuccessful burglaries within a mile-and-a-half of Barn Mead after the fire could be linked.
Dr Shakoor, a registrar at Princess Alexandra Hospital in Harlow, said: "I ask from my heart that anyone with information comes forward to help, so that I may understand the tragedy that has befallen my beautiful family.
"I am looking to the community once again for help in providing answers to the many questions that remain. I do not understand why my little children who were so happy and full of life, who had so much to live for, are no longer here."
Laptop bag
Det Supt Rob Vinson said: "We believe that this burglary took place after the family had gone to bed and before the fire was discovered.
"Our inquiries have revealed that in Harlow during the same evening/early morning there were two other unsuccessful attempts to break in to other properties and one where entry was gained but the suspect was disturbed and nothing was taken.
"How these incidents relate to the current investigation is ongoing."
He said a laptop bag containing personal papers and a two-pin laptop lead had been found abandoned near lock-up garages in Whitewaits, Harlow, on 26 October.
Police have confirmed the items belong to Dr Shakoor.
A spokesman said later that a schoolgirl and teenage boy seen throwing away the laptop bag had come forward and were speaking to detectives.
The force also wants to hear from anybody offered a Toshiba Satellite laptop computer after the fire.
In a further appeal, officers want to speak to a group of young people aged between 16 and 19 years old seen in Barn Mead on the night of the fire.
Mr Vinson said the group wore tracksuits and baseball caps and two were on bikes.