Southend Hospital nurse Jean Colclough, 74, to retire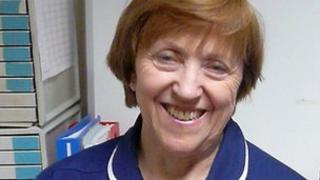 A woman thought to be the longest serving nurse in the country is poised to retire - though has not ruled out a return to duties as a bank nurse.
Southend Hospital's Jean Colclough started work in the same year as the Suez crisis, 1956.
On a salary of £260 per year when she started, the 74-year-old now has 56 years of service behind her.
Ms Colclough said she was retiring for pension reasons adding: "I would happily stay on."
'Not going to be easy'
Shortly after she qualified as a nurse in 1960, she ended up in the London Chest Hospital with an aggressive condition bronchiectasis. She had most of her left lung removed and was told by a consultant she was unlikely to live beyond 40.
Initially, she wanted to train as a doctor, but her parents could not afford the university fees.
It is not a cause for regret. "I don't think I could have done better than I have done. It's been lovely - every ward I worked on was the best place I had ever been," she said.
"My retirement letter was the hardest I have ever had to write," she said. "I was on my own and just sat there and grizzled. I would happily stay on.
"Just stopping is not going to be easy. I would certainly consider coming back on the bank. But first we have to move house."
Hospital discharge coordinator Sandra Steeples, said: "Jean will be so greatly missed, and I wish I could clone her - and bottle her energy."
The hospital said it had tried to establish whether Ms Colclough was the nation's longest-serving NHS nurse. A spokeswoman for the hospital said: "We have heard of other nurses who have clocked up 50 years - but not 56."