Teeth whitening trader Barrington Armstrong-Thorpe jailed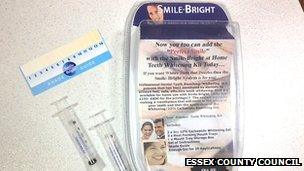 A man who sold teeth whitening products with peroxide levels up to 100 times the legal limit has been jailed.
Barrington Armstrong-Thorpe, 64, of Clacton, was given a 16-month sentence by a judge at Chelmsford Crown Court.
He was prosecuted by Essex Trading Standards for misleading consumers and for a string of breaches of the Cosmetic Product Regulations 2008 Act.
Armstrong-Thorpe had denied the offences but was found guilty by a jury.
The trader sold teeth whitening products from 2005 through a company called Smile Brighter Marketing Limited and later over a number of websites.
By law the maximum amount of hydrogen peroxide allowed is 0.1% of the overall product. But in the products sold online by Armstrong-Thorpe, some were found to be 103 times the limit.
He started selling the product when he returned from the US.
In 2007, he was warned by Bath Trading Standards the whitener he was selling was illegal.
But he continued to trade and in 2009 was contacted by Essex Trading Standards.
An investigation into the business was opened and he continued to trade despite accepting a caution from Essex Trading Standards.
A forfeiture order was passed by the Crown court for the remaining stock of teeth whitener.
Kevin Bentley, the council's cabinet member responsible for trading standards, said the products sold had been "dangerous".
"This conviction should act as a warning to other traders that may be trying to make money by selling these illegal goods," he said.
"However, it should also be a reminder to our residents to only purchase goods like this from a reputable source."
Related Internet Links
The BBC is not responsible for the content of external sites.