Lord Hanningfield used council credit card for foreign trips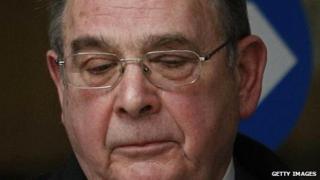 A peer jailed for fiddling expenses spent thousands of pounds of taxpayers' money on trips to the Bahamas, India and China, it has emerged.
Lord Hanningfield, 71, was jailed last year for falsely claiming £28,000 in parliamentary expenses.
A City of London Police investigation into the his spending at Essex County Council was this week dropped.
But the council, led by the peer from 2001 until 2010, has published details of his corporate credit card spending.
Lord Hanningfield served nine weeks of a nine-month sentence last year for fiddling parliamentary expenses.
He was later ordered to pay back more than £30,000.
Uganda books
He is yet to comment on the publication of the spending details at the county council, but previously said he felt he had done nothing wrong.
In publishing logs of his credit card spending, the council confirmed Lord Hanningfield had been able to sign off his own spending.
The peer's card use from 2005 to 2010 lists thousands of transactions, including spending on flights, train journeys, meals and hotel stays which amount to £286,000 in total.
They include £42.94 spent on a single breakfast at the Little Chef in Wisley South, £5,266 on flights to India for a "business event" and £6,652 spent on flights to the Bahamas for a conference.
In just one day - 24 April, 2007, he put £4,818.86 on the council credit card. This included £688.80 on a Eurostar journey for himself and four others and £340.26 on a dinner for six at a London hotel.
The former leader of the council, which runs libraries across Essex, spent more than £40 on travel books for Uganda before a further £1,809 went on hotels in the African state in 2007.
Residents in Stock, which was previously represented by the peer when he was on the county council, said they were disgusted but not surprised by the spending.
"I think it is dreadful," said Warren Ryman, 69. "It has costed us all and it has been swept under the carpet. I think it is awful.
"If that's what the rules say then the rules were wrong."
Current leader of the council Peter Martin said: "The conclusion of the police investigation now means we are in a position to publish further information relating to Lord Hanningfield's corporate credit card.
"We are committed to being open and transparent and I am pleased that we are now able to make this information available for the public to view."
An internal audit report published on Thursday by the county council reveals wider concerns about the use of corporate credit cards dating back to 2003.
At one stage there were 12 cards held by senior figures at the Conservative-run council.
The 2008 report said: "Whilst no misuse of council resources has been evidenced, the lack of supporting documentation and detail of card expenditure means that it cannot be said that there is no inappropriate card expenditure.
"There has been much use of corporate cards exceeding the authority's guidelines for use and travel and subsistence policy."
The report said in a sample of 31 authorised credit card transaction logs covering a three month period, 25 (80%) included expenditure which was either not in accordance with the council's guidelines or supported by invoices or receipts.