Essex County Council broke employment law on driver hours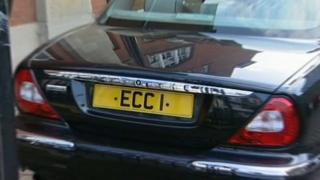 Essex County Council broke the law in allowing its chauffeurs to work up to 93 hours each week, it has emerged.
Details of hours worked by its drivers - each assigned a primary passenger, such as the leader - have been released by the council.
The internal audit found in 2009-10, when disgraced peer Lord Hanningfield was leader, one driver was finishing at 01:00 and starting again at 07:00.
The council said it it had changed its procedures in light of the findings.
The council previously had three chauffeur-driven cars but now has one. Responding to a BBC Freedom of Information request, the council revealed it had spent £677,733 on the cars in the five years up to 2011.
The previously confidential internal report into the use of chauffeurs is one of a number of internal audit documents released this week by the authority.
This follows the City of London Police's decision to take no further action against former leader Lord Hanningfield in connection with his time at the council.
The peer, who was jailed last year for fiddling his parliamentary expenses, maintains he did nothing wrong.
'Unpaid tax'
"The chauffeurs are consistently working a significant amount of overtime each week, often finishing late and starting early the next morning," the report said, adding that the average overtime during a 14 month period was between 20 and 60 hours each week.
"Working long hours presents an increased risk of accidents. The council is also contravening employment law designed to protect employees."
It has also emerged the council, and its drivers, were liable for unpaid tax in relation to its fleet.
The report said the cars were kept at drivers' homes which meant they were "taxable benefits".
"Essex County Council has not reported the taxable benefit accrued by the drivers to Her Majesty's Revenue and Customs (HMRC). It is likely that the drivers are not aware of this taxable benefit.
"The council and the drivers are liable for the unpaid tax and possible large penalties for non-compliance with HMRC regulations. HMRC could insist on recovering the tax for the last six years."
Speaking to BBC News, Joanna Killian, council chief executive, said: "The county council now has one car and one driver. We've changed all our procedures around the employment of our chauffeurs."
The HMRC is yet to comment.