Essex fire service called to oil blaze in Little Warley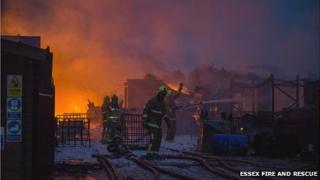 Crews have been tackling a large fire involving 30,000 litres of cooking oil at a storage depot in Essex.
The fire in Little Warley near Brentwood was reported at 05:15 GMT on Tuesday after neighbours heard a "massive bang".
Utility and Environment Agency officials were called in and neighbouring properties evacuated.
The fire involved cooking oil, tonnes of paper and 3,000 litres of diesel. It was brought under control by midday.
Officers found the cooking oil on fire in a number of different containers at the one acre site, a spokesman said.
'Massive bang'
Crews, who were brought in from across London and Essex, used foam and water jets to bring the fire under control.
Eyewitness Tony Smith, who has lived opposite the storage site for 10 years, said he was woken by a "massive bang".
"I knew it was an explosion of some sort and I saw the bright light," he said. "I thought my car might have been on fire.
"I saw the flames about 100ft in the air."
He told how he and the other neighbours were evacuated as firefighters sought to contain the blaze.
Fire officers told BBC News they had to use special equipment to bring water to the site from the A127.
Divisional Officer Mark Samuels, the incident commander, said: "This is a recycling yard that recycles various types of used oils, hence the intensity of the fire," he said.
The fire is now under control, the service said.
An joint police and fire service investigation will be carried out.