Prayers at Harlow Synagogue see Jews and Muslims unite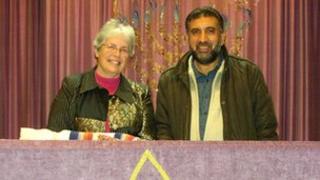 Jews and Muslims in an Essex town have joined in prayer for the first time.
The interfaith service at Harlow Reform Synagogue saw Jews joined by Muslims from the town's Islamic Centre.
The Saturday prayers - organised weeks ago - happened as Israel and Gaza's Hamas government agreed to a ceasefire.
Rabbi Irit Shillor said the recent fighting in Gaza and southern Israel was a "political issue", adding most Jews and Muslims wanted peace.
Islamic Centre chairman Ajaib Hussain said: "The more we come together, the more we can do something positive.
'Shared grief'
"We were coming together to share a belief in the one God. What God wants of us is to break down barriers."
The service follows the deaths of six members of a Muslim family in the town. Police are treating the deaths as murder.
Dr Sabah Usmani, her sons Muneeb, nine, and Rayyan, six, and daughter Hira, 12, died on 15 October in Harlow.
A third son, Sohaib, 11, and daughter Maheen, three, died later in hospital.
Their father, hospital registrar Dr Abdul Shakoor, is a member of the Harlow Islamic Centre.
He said earlier this month: "In this very hard time for me and my family, every member of the community, irrespective of their faith, has shared my grief and feelings and provided me with great moral support without which it is not possible for me to cope."