Asa Pryke awaits jail in Dedham caravan court battle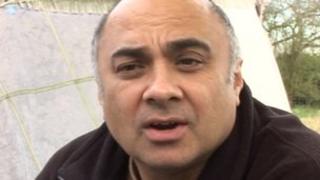 A father-of-three is waiting to be taken away after he was jailed for four months over a row about caravans.
Asa Pryke, 47, and wife Gwen, 48, set up camp on their land in Dedham, Essex, in 2011 after their business collapsed.
Earlier this year they were given suspended prison sentences at the Civil Court of Appeal for breaching an earlier order to leave the site.
Mr Pryke was told he would be jailed on Monday. Mrs Pryke was given a reprieve to look after their teenage children.
Colchester Borough Council, which brought the case against the Prykes for developing the Constable Country plot without planning permission, said it had no alternative other than to take action.
'Upset and distress'
By 13:30 GMT on Monday, Mr Pryke had not been arrested and was still at the site in Dedham.
"I don't know really what I'm supposed to do," he said. "Nobody has told me. Am I supposed to go down to the police station and hand myself in or do I just wait here for a police car to arrive?"
He said all he could do was wait and see what happened.
The ongoing legal row had "caused upset and distress" to his family, he said.
Mr Pryke said the family had "dug in its heels" on the issue because they had become homeless when they could no longer afford to pay rent on their previous property.
They were left with nowhere else to go, he said. "It is a very serious situation."