Pair raise money for burgled Essex County Hospital ward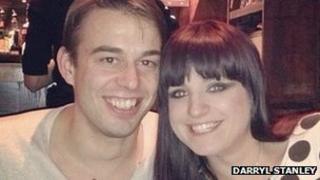 A couple from Essex have raised more than £400 towards a hospital cancer ward that was burgled.
A thief stole a TV and a DVD player from a communal area at Essex County Hospital in Colchester last week, which staff described as "despicable".
Sacha Allen and Darryl Stanley campaigned on Twitter to raise funds for replacements.
But despite another donor pledging new items, the pair said they would continue to raise money for the ward.
The equipment, funded by donations from former patients, was taken from the day room of the 16-bed Jefferson Ward at the hospital.
Police are investigating the theft.
Ms Allen, 27, said her grandmother Jean had received "outstanding care" at the ward before she died in the summer and the appeal was "close to our hearts as a family".
Her partner Darryl, 32, said the campaign began out of a "sense of outrage" at the theft, but added the pair were both completely surprised when a number of donation pledges started to come through.
"The theft was the lowest of the low," said Mr Stanley.
"The response has been heart-warming and humbling - it just underlines how cancer really affects people."
Donna Booton, Macmillan lead cancer nurse and matron for Essex County Hospital, said: "This story has touched many people and the hospital has received several offers of help, for which we're grateful.
"We're now considering these and how they can be used to the maximum benefit of patients on Jefferson Ward."