Dovercourt robbery: Plea for sightings of getaway car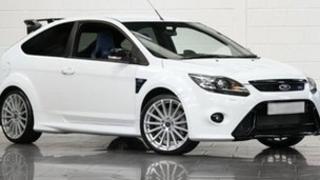 Two robbers escaping in a stolen Ford Focus could have been seen by a number of witnesses, Essex police believe.
Police are concentrating on their getaway route after the robbery at Barclays Bank in Dovercourt on Tuesday.
A 62-year-old security guard from the Ipswich area was punched in the face before a cashbox containing a five-figure sum of cash was stolen from him.
The white car was later found abandoned on Knights Close in Lawford about eight miles from the bank.
'Key witnesses'
Police said the car had been stolen during a burglary in Bramford in Suffolk on 6 November.
The empty cashbox was found on the B1352 close to Lunnish Hill, just outside Ramsey, on Wednesday morning.
Det Sgt Tim Coyles said: "Our main lines of inquiry relate to the getaway route that these two thieves took.
"We know it (the car) turned right at the top of Kingsway and then sped off towards Ramsey. Our initial appeal is for anyone who saw this car during this short journey.
"Our second appeal is for those motorists who saw the car travel from Ramsey, through Wrabness, into Bradfield, on to Mistley and then finally to the dump site in Lawford.
"These are all key witnesses," he said.