Hole in Blackshots Lane, Grays, prompts evacuation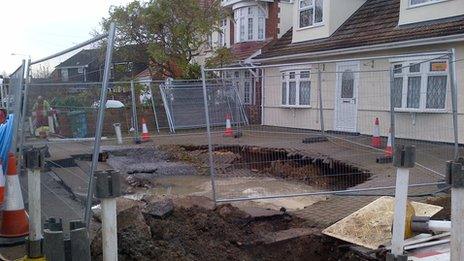 A family have been told to leave their home after the ground outside it collapsed into a 25ft-wide (7m) hole.
Engineers from Thurrock Council have closed off one lane in the road outside the Coldham family home in Blackshots Lane in Grays.
The owners first noticed something was wrong when a small hole appeared outside the cottage last week.
The cause of the problem is a denehole, an underground gap left by chalk excavation in 17th Century.
Jason Coldham, brother of the owner of the house, said: "It is pretty manic at the moment.
"My brother first noticed it when a 2ft (0.7m) hole appeared. Within a matter of seven or eight hours, it had grown into a 5ft (1.5m) hole.
"It has got worse and worse and has developed into a 25ft crater which is about 5ft deep."
The family, which breeds dogs, has had to evacuate the property.
"We've got to pick up everything and move," said Mr Coldham. "They could be out for six months to a year."
He said there were concerns the building might collapse.
Related Internet Links
The BBC is not responsible for the content of external sites.