'Piles of paper' in Basildon fire house hamper crews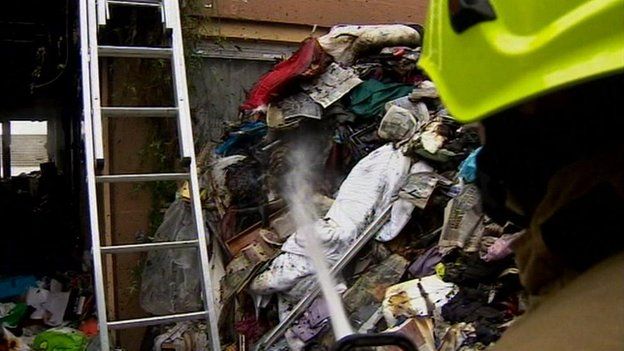 Firefighters called to a fire in Essex said the house was so full of possessions that the front door had to be taken off its hinges to get in.
Crews were called to the three-storey townhouse at Gambleside, Basildon, on Sunday morning to find piles of paper and cardboard alight.
An Essex Fire Service spokesperson said some of the accumulated paper was up to ceiling level.
A man was treated for minor injuries and smoke inhalation.
It took more than 60 firefighters five hours to put out the fire, which produced thick, black smoke.
Crews had to take out all the paper and cardboard and leave it on the street for collection by the local council.
Dave Moore, from Essex Fire Service, said some of the floors were 2ft (60cm) deep in paperwork.
"It was two foot on the floors, then you've got a small corridor where the accumulated paper goes up the side to the ceiling level, so we've got a lot of combustible material."
He said crews had done a good job of stopping the flames spreading to adjacent premises.
"People should consider how much accumulated combustible material they keep on their premises."
Related Internet Links
The BBC is not responsible for the content of external sites.