Loan for Harwich harbour for wind farm industry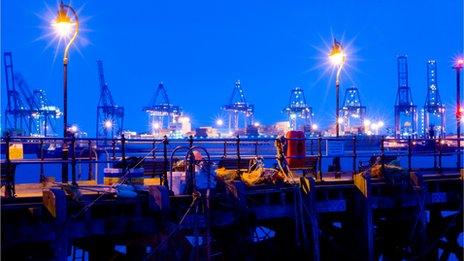 A harbour for high speed vessels could be built on the Essex coast to support the offshore wind farm industry.
A public loan of £2.2m from the South East Local Enterprise Partnership (SELEP) will go to AJ Woods Engineering to build the harbour in Harwich.
Essex County Council, which applied for the money, claimed the harbour would "create" 300 jobs.
SELEP, however, said the scheme would create 12 jobs, three apprenticeships and "support" indirectly 300 jobs.
The county's coast is already home to the Gunfleet Sands wind farm and further wind farm developments in the North Sea are proposed.
Tony Woods, managing director of AJ Woods, said the small harbour would "help to bring international companies and manufacturing" to Harwich and "provide skilled work for local people".
He said a similar harbour in Ramsgate had "led to a boom in employment" there.
Peter Martin, the leader of the county council, said: "Construction of wind turbines off the Essex coast will require many survey vessels working from nearby ports for both construction and maintenance.
"Harwich is the only national sheltered deep water port so securing such activity into the town is not only vital, but makes commercial sense.
"Creating a significant offshore hub now in Harwich is fundamental for securing long term opportunity and investment into the area."
Related Internet Links
The BBC is not responsible for the content of external sites.