Singing skills for stroke patients at Harlow hospital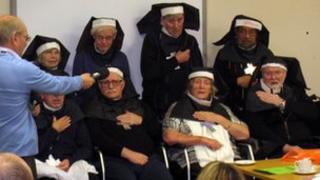 A hospital is using the power of song to help stroke patients regain and improve their language skills.
Staff at Princess Alexandra Hospital in Harlow are encouraging patients to sing as part of their recovery.
Stroke experts at the hospital say different parts of the brain are used for speech and singing.
One of the patients, Angela, said she found it easier to sing words than to speak them. She said she had benefitted from the project.
A hospital spokesman said: "Many people suffering from stroke lose their power of speech or their ability to speak fluently.
'Comes naturally'
"However, we are trying a technique which means they can communicate by singing. It uses a different part of the brain and it means by working on that side of the brain it helps them build up their speech function."
The singing sessions are used in the hospital's dedicated stroke support groups. At a recent meeting, some members dressed up as nuns and sang numbers from the film Sister Act during a lunch session.
Patsy Simons, a specialist stroke nurse, said: "You will find that a lot of stroke patients who lose the power of speech can do voluntary things like swearing or singing, it just comes naturally."