Lay-by truck stops in the 'age of austerity'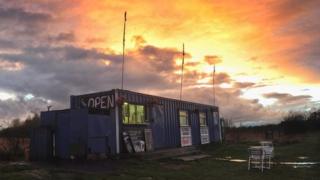 Once the preserve of long-distance lorry drivers, the nation's humble transport stops are seeing a new breed of customers coming through the door.
Truck stops come in all shapes and sizes - from the giant lorry park to the van and the demountable building powered by a generator.
Many of the smaller stops are perched beside lay-bys at the boundary between private farmland and the publicly-owned highway.
For those whose working lives are lived out on the road, they are vital resources. Lorry drivers say they plan routes based on the stops and the characters who run them.
But "austerity Britain" has brought new faces to the nation's truck stops.
Families, weekend travellers and business reps are increasingly joining truckers in these mobile diners.
The reason is simple - price.
A truck stop cup of tea is usually at least half the price of its bricks and mortar counterpart.
Vinnie Swain, who owns two established truck stops on the southbound stretch of the A12 near Kelvedon in Essex, said: "We are getting a lot more cars these days.
"We opened as a truck stop for lorry and drivers.
"But as the economic climate has got harder we are finding a lot more people stopping cars.
"We are getting a lot of families in now, especially at weekends."
'Meet all sorts'
People in cars are called "suits" by truckers and truck stop owners.
It is used as a term of "endearment", said Mr Swain, a former market trader.
For Mr Swain, truck stops have become a family business. His wife Paula, who he married last year, takes care of one of the stops while he tends to the other.
In recent weeks, he has opened his stops in sub-zero temperatures, howling winds and belting rain.
Asked whether his morale was ever dented by winter weather, he said he would never consider not opening.
"We have to open," he said. "The drivers have still got to come out and do their runs.
"The sunshine is beautiful and it is lovely to work in the sunshine but we have to work all year round and we are open 52 weeks of the year."
Truck stops are usually powered by generators, which means foodstuffs are not kept overnight but replenished every day.
"We are limited in what we can sell," said Mr Swain. "But we have a fairly big range from breakfasts to sandwiches to ham and chips."
'Talk to anybody'
As he was speaking to BBC News, a soldier heading north towards Colchester Garrison approached holding a jerry can.
"I think I'm about to run out of diesel," the soldier, dressed in fatigues, boots and a beret, told him. Mr Swain reassured the soldier the nearest filling station was just a short drive away.
"Can I get you anything while you here?" Mr Swain asks.
The soldier smiles and asks for a cup of tea. He stands outside at the window counter and sups on his hot drink.
"You really do meet all sorts," Mr Swain said, once the soldier heads off.
"You've got to be friendly. People who come through the door, they don't expect people to be miserable they want to come in and see a smiling face.
"Some drivers want to talk to you, some have had a bad day and don't want to talk to anybody.
"You just go with the flow. The long and short of it is if they want to talk to me, I am happy to talk to anybody."
And for many long distance lorry drivers, a lay-by transport cafe proprietor might be the only person they see for hours at a time.
One haulier - Geoff - said: "I don't stick to one area so I might go two or three months before I do a particular area again.
"You never know where you're going to be from one day to the next.
"So, when you do, you plan your day. I knew I needed a stop before I got home, so I planned to stop here.
"He (Mr Swain) is a good old boy and I knew I could get something hot to eat and a cup of tea and once my break is up I'll head for home."