Shoeburyness 'naked arrest' officer breaks leg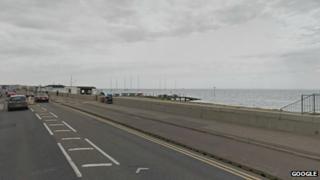 A police officer in Essex suffered a broken leg while arresting a naked man in the sea on suspicion of assault.
The officer had apprehended the 33-year-old man off Eastern Esplanade in Shoeburyness on Friday after a series of incidents.
Police were contacted about a domestic dispute, the assault of two women and criminal damage.
A spokeswoman said the man had since been bailed, and the officer was taken to Southend Hospital.
The naked man was recovered from the water with the help of Southend Coastguard and was taken to hospital for checks.
Police were initially alerted over concerns for a woman after a door and window were damaged in an argument on Richmond Avenue.
They were then made aware that on the same street, a second home had been damaged, a car and two women attacked.
The man, arrested on suspicion of assault occasioning grievous bodily harm, is due to return to police on 18 January.