Trapped Shoeburyness swans freed from lagoon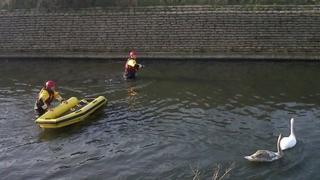 Firefighters, a wildlife ranger, coastguards and the RSPCA took part in an operation to rescue a family of swans in Essex.
They were called on Tuesday after two adults and a cygnet became trapped in a lagoon at Gunners Park, Shoeburyness.
The area was too small to give the birds enough space to build up the speed to fly away and its sides were too steep for them to climb out.
The birds had been spotted by members of the public and a park ranger.
Nick Macfarlane, a ranger for Essex Wildlife Trust which manages the site, said: "These birds had landed in a brackish lagoon forming part of the flood defences.
"Once in there, they had no way of getting out because there was not enough distance for them to take off.
"The swans' necks were low and they were looking tired. They were pecking at a metal grid, trying to get through."
Mr Macfarlane said he telephoned a wildlife hospital, local swan expert and the RSPCA before contacting the fire service on its non-emergency number.
He said rescuers considered several options before removing the grid and herding the swans through it, and then grabbing them and carrying them to fresh water nearby.
He said the grid had now been adjusted so that if the swans landed in the lagoon again, they would be able to get out.
Essex County Fire and Rescue Service said it sent a crew from Shoebury and the water rescue team from Leigh after being contacted by the RSPCA.