Harlow fire deaths: Two people may have vital information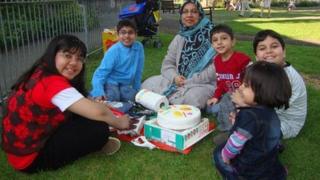 Two people who left information for police investigating the deaths of a woman and her five children in Essex are being asked to make contact again.
Seventy officers are investigating the fatal fire in Barn Mead, Harlow.
Sabah Usmani, sons Muneeb, nine, and Rayyan, six, and daughter Hira, 12, died at their home in October.
A third son, Sohaib, 11, and daughter Maheen, three, died later in hospital. Dr Usmani's husband, Dr Abdul Shakoor, was the only survivor.
Det Supt Rob Vinson said: "I would like to specifically appeal to two people who gave information about this incident back in November to contact me.
"A person rang the police station in Harlow from a phone box and left a message.
"Secondly, separately, a piece of paper with information was left on a shelf in Boots in Harlow.
"I need these people to contact me or my team as their information could be vital to our investigation."
Support from family
Detectives have also issued a photograph of two quite distinctive petrol cans that were found in bushes in Barn Mead two days after the fire.
Scientists are still forensically examining the fire scene at the house.
Detectives said that they now know that the fire started in the back of the lounge, and are now confident that the family laptop is not amongst the debris from the fire.
Det Supt Vinson said: "I again re-appeal for information about that laptop, a Toshiba Satellite, which we believe was taken during a burglary at the house."
Police also want to know more about the laptop bag and two-pin lead recovered 11 days later in the St Michaels/Whitewaits area of Harlow.
Det Supt Vinson said: "We are keeping in close contact with Dr Shakoor, who is also being supported by other members of his family."
To date 460 people have given statements, 3,400 documents have been produced, and 1,800 exhibits have been collected and stored.