Breast screening work cancelled after Harlow hospital theft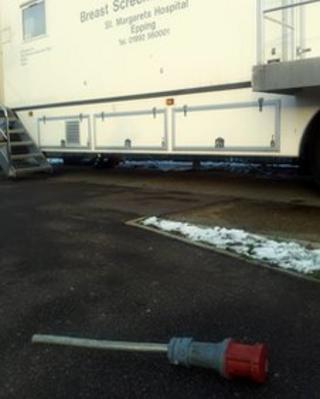 More than 60 breast screening appointments were cancelled after thieves stole the power lead for the scanning machine.
The breast screening machines are housed in mobile units run by Princess Alexandra Hospital in Harlow.
It is the second time in two months the hospital has had one of the thick copper cables taken.
The hospital has scaled back its daily breast screening appointments to make time to store the cable.
It means that as well as the 64 appointments cancelled on Wednesday, six fewer patients will be screened each day.
A hospital spokesman said the theft caused "major unnecessary disruption" to its service.
"We are upset and annoyed that people could do this to our service - which is designed to save lives," he said.
"The cost of replacing equipment is several thousand to the NHS and will cause delays to the already over-stretched screening programme.
"The culprits have been recorded on CCTV and hopefully with the help of the public they will be recognised and reported to the police."
Police are investigating the theft.