Brightlingsea barge crash caused by fog and bad communications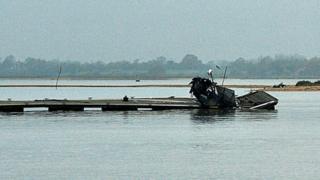 Fog and poor communication from lookouts led to a 2,800 tonne barge crashing into a wooden pontoon at an Essex harbour causing at least £30,000 of damage, says a report.
The 288ft (88m) Calamar was manoeuvring into the harbour in Brightlingsea on 15 November when the accident happened.
Four boats suffered superficial damage and one dinghy was destroyed.
Harbour Commissioner Robin Cole said the barge itself was not damaged and sailed on to Sweden.
Mr Cole says in the report the Calamar was heading for Oliver's Wharf to load a cargo of wood-chip when the accident happened.
He said as the boat went through the narrow channel towards the wharf "visibility deteriorated".
"Poor communication from the lookouts... resulted in the vessel making a late turn and she came off the intended track, colliding with the North Cardinal beacon," he added.