Leigh-on-Sea shop owner 'lucky to be alive'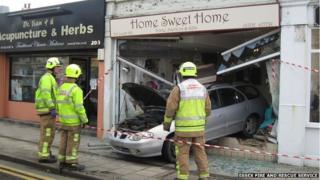 An Essex shop owner has said she feels "lucky to be alive" after a car crashed through the window of her business.
Mother-of-two Antonietta Tulino-Smith had been changing the window display at Home Sweet Home in Leigh-on-Sea moments before the impact.
Insurers are due to visit the gift and homeware shop on Friday to assess the value of the damage.
A spokesman for Essex Police said the driver of the vehicle had been reported for motoring offences.
Mrs Tulino-Smith, 41, said she just missed the full impact of the crash as she had walked to the back of the shop in Leigh Road to switch the kettle on.
She was shunted to the wall by the vehicle reversing in.
Mrs Tulino-Smith, from Westcliff-on-Sea, said she and her friend who had dropped in for a visit are both still in shock after Tuesday's incident.
'Inches away'
She said: "I was in the shop talking to my friend who was near the desk, then I heard this almighty crash and this car came through my window.
"The shop is demolished and everything has been destroyed.
"I feel we are lucky to be alive as the car was inches away from us."
Mrs Tulino-Smith, who has a two-year-old son and a nine-year-old daughter, hopes to reopen her shop but doesn't know how long the damage will take to repair.
She said: "My livelihood has just gone after all these years of building it up.
"It's like a building site in the shop so I've got to try to turn it around."