Lord Hanningfield: Peer wins £3,500 damages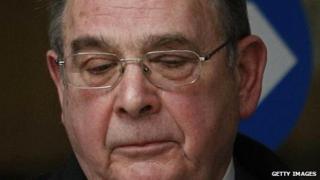 Disgraced Tory peer Lord Hanningfield has won £3,500 damages after suing Essex Police for unlawful arrest.
The former leader of Essex County Council, appearing at the High Court in London, said he had been unlawfully arrested and detained in 2011.
He was arrested for alleged fraudulent use of a county council credit card. That case was eventually dropped.
Lord Hanningfield said he was pleased with the verdict. Essex Police said it might appeal.
In his decision, Mr Justice Eady said he had considered whether the arrest was necessary "to allow the prompt and effective investigation".
"The prospect of his [Lord Hanningfield] attempting to 'bully' any of the police officers visiting his home that morning does seem somewhat remote," said Mr Justice Eady in his written statement.
"It was further mooted that, unless he was arrested, Lord Hanningfield might seek to destroy or conceal evidence relating to his expenses," he said.
"It seems that the officers were under the (mistaken) impression, for example, that he was still in possession of a council computer."
Mr Justice Eady said he felt the police officer concerned believed the arrest was necessary.
But he said: "I have come to the conclusion that the requirement of 'necessity' as laid down by Parliament has not, on any realistic interpretation of the word, been met."
Speaking about the judgement, Lord Hanningfield said: "My action was justified. Everything was very heavy-handed."
The peer was arrested days after being released from prison having served nine weeks of a nine-month sentence for false accounting over parliamentary expenses.
'Never taken lightly'
He had been seeking £6,500 compensation from the police for illegal arrest.
"I would always have co-operated with the police.
"If they asked to talk to me about these so-called county council expenses I would have agreed.
"I think the police do need to be careful. I felt it extraordinary that I was treated in this way," said Lord Hanningfield, 72.
"I want to get back to serving the people of Essex in the House of Lords."
Lord Hanningfield had spent £286,000 on his council credit card between 2005 and 2010.
Essex Police released a statement saying it was disappointed with the judgment and was "considering the merits" of appealing against the decision.
A police spokesman said: "We note that the court accepted that officers had acted in good faith and that they had honestly believed the arrest was necessary.
"The decision to arrest is never taken lightly and we recognise the right of individuals to challenge such decisions before the courts."