Dedham caravan row: Gwen Pryke sent to prison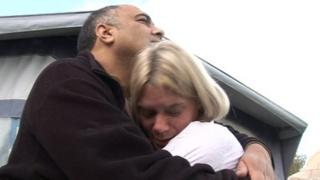 A 48-year-old woman who has been living with her family in caravans in Essex for two years has been jailed.
Gwen Pryke was arrested in Dedham on Wednesday for breaching a court order to leave the site.
She was given a four month suspended sentence last year after Colchester Borough Council brought the action against the family.
The authority said the family does not own the land where the caravans are situated.
Mrs Pryke's husband Asa Pryke was jailed for the same offence last year. Mrs Pryke's sentence was suspended so that she could take care of the couple's three sons.
They moved into three caravans on the land in 2011 after their businesses collapsed and they could no longer afford to rent their property.
The couple said the land was owned by Mrs Pryke's late father, but the council said it had "documentary evidence" proving it belonged to an insolvency company.
Last year the Civil Court of Appeal ruled the couple had breached an earlier order to leave the site.
Mr Pryke said 10 police officers arrived at the site at 07:45 GMT on Wednesday to arrest his wife.
He said: "Gwen has been carted off to prison at Holloway. She's got four months and will serve two."
Councillor Tim Young said the Prykes "clearly don't own the land".
He added: "The court has ordered them to do something they haven't done so they've been found in contempt of court and that's why they are going to prison.
"The council has documentary evidence to show the land is owned by an insolvency company because Mrs Pryke is bankrupt.
"The fact that she has gone to prison is very unfortunate but it was a decision for the courts."
Essex Police said a 48-year-old woman had been arrested on Wednesday in Dedham "on a court warrant for breach of a court order".
A spokesman said she was taken to Colchester Police Station before being transferred to the Prison Service.