Live hand grenade found in Admirals Park, Chelmsford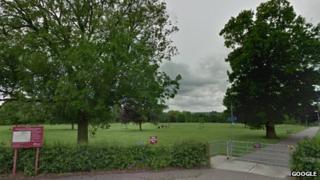 A failed attempt was made to detonate a hand grenade in an Essex park, police have said.
The unexploded grenade was found on the grass in Admirals Park, Chelmsford, by a council employee on Thursday.
He called the police and safety cordons were set up before an MoD bomb disposal team destroyed the device in a controlled explosion at the scene.
Essex Police have appealed for anyone who witnessed suspicious activity in the park to contact them.
The grenade was found shortly before 14:00 GMT.
'Very fortunate'
Insp Cheryl Hayes said: "It would appear that an attempt had been made to set off the grenade but that it had failed to detonate.
"We do not believe the device had been there for a long time as it was easily spotted from the path and would have aroused any passer-by's suspicions.
"It is obviously very fortunate that the device did not explode as if it had detonated then clearly there would have been a danger to anyone who may have been at the location - including the person who tried to set it off."
She said the exact type of grenade could not be confirmed because it was live and could not be examined before it was destroyed.
Police did not know where the grenade came from and had received no reports of thefts of such items, she added.
"We do not believe there is any ongoing risk to members of the public but we obviously want to trace the person or persons who were involved in this incident as soon as possible," she said.